A customer-satisfaction survey released last year by the Department of Homeland Security (DHS) showed that approximately 90 percent of employers using E-Verify are very likely to continue participating and 86 percent are likely to recommend it to others. Some 1,300 new businesses sign up each week.
What do they like about it?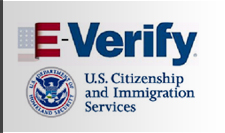 Operated by the federal government, E-Verify is a Web-based system that lets any U.S. employer electronically verify the employment eligibility of newly hired employees. It compares information entered from the employee's Form I-9 with data on record with the Social Security Administration (SSA), Department of Homeland Security (DHS), and Department of State (DOS). In some cases, you may be prompted to compare an employee's photo ID with a photo displayed in E-Verify.
Once the information you entered is checked against government records, a result is displayed – most commonly, "Employment Authorized." According to U.S. Citizenship and Immigration Services, 98.65 percent of employees are confirmed as authorized to work, either instantly or within 24 hours, requiring no further action.
Sometimes, the initial result is "Tentative Non-Confirmation," indicating that the entered information does not match SSA records. Similarly, "DHS Verification in Process" means that the information did not match DHS records. That doesn't mean the employee is not authorized to work in the United States; the government may have out-of-date records, or there may be another legitimate explanation. In either case, you must promptly notify the employee, who can then choose to contest the result.
While E-Verify is voluntary for most employers, eight states require all employers to use it. Certain contractors and sub-contractors of the federal government are required to use it, as are public contractors in some states.
For immediate assistance with E-Verify contact ADP® at (800) 447-3237.
Employers in states that require E-Verify are required to input Form I-9 information for verification within three business days of the first day of employment. ADP TotalSource® has tools and resources to administer E-Verify as your agent.
This article was condensed from an in-depth write-up in ADP's Bottom Line magazine, offering expert insight into today's most pressing HR management and compliance challenges. Visit the Bottom Line home page to download the current and archived issues.