Many finance chiefs have traditionally considered compliance a costly burden, sapping valuable resources from revenue-generating activity. But according to a recent survey conducted by CFO Research in collaboration with ADP©, many senior executives in both finance and human resources see it differently. They view effective employment-related tax and payment compliance programs as helping to contribute to the bottom line.
At least half of the survey respondents reported that their company's management of employment-related tax and payment compliance activities has had a positive impact on productivity, operational efficiency, and profitability.
The adjacent was condensed from an
article by Josh Hyatt, associate director
of research at CFO.com.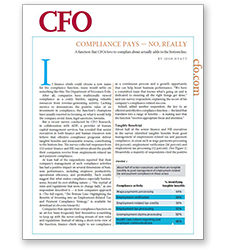 Click here to download the full article.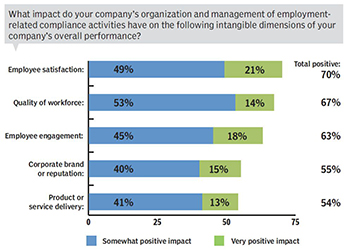 Source: "Compliance Pays – No, Really." CFO.com, April 21, 2014.
One factor that makes compliance especially burdensome, beyond its ever-shifting nature, may be how companies approach it. Companies that manage employment-related tax and payment compliance on an ad-hoc basis frequently find themselves scrambling to keep up with new rules and regulations. Tackling it in a consistent and integrated manner, on the other hand, helps create a working environment that is less isolating, more transparent, and more conducive to open dialogue.
A majority of respondents cited the positive impact of well-managed employment-related tax and payment compliance on intangible performance measures, including employee satisfaction (cited by 70% of respondents), employee engagement (63%), and corporate brand and reputation (55%).
ADP SmartComplianceSM is a cloud-based platform of outsourced services that helps you consolidate disparate and largely manual employment-related tax and payment compliance processes, virtually agnostic to your current ERP, financial, or HR system of record. Visit ADP.com/SmartCompliance.