If you're like most HR leaders, you want to spend more time focusing on your people – and less time dealing with disconnected processes and HCM systems that don't talk to each other.

In our new complimentary ebook, you'll see how applications and APIs are supercharging the entire spectrum of HR activities. With these technologies in place, you can now bring recruiting, payroll, employee engagement, and other HR functions onto a single platform in an easy and secure way.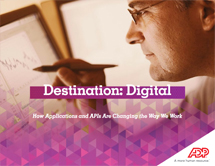 Download Destination: Digital – How Applications and APIs Are Changing the Way We Work and learn how you can streamline your HCM world and bring more benefits to your entire workforce – from hire to retire.