Reclaim your day
Discover the freedom of moving beyond ad hoc HR management.
Up to 72% of small businesses depend on someone to take on HR tasks in addition to their primary responsibilities (aka their day jobs).
Discover the risks of an ad hoc HR manager and how to shed this responsibility.
Fill out the form to download the complete guide to moving beyond aHRM.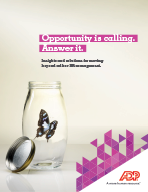 Ad hoc HR can cost you.
Did you know that 82% of aHRMs have no formal HR training? Learn more about the risks facing businesses entrusting critical HR duties to individuals who lack the proper education or tools.

What, exactly, do aHRMs do?
You'd be surprised. We surveyed over 1,000 small business aHRMs to find out how much of the HR load they actually carry. Turns out, it's quite a lot. Think you know aHRMs? Guess again.

Recover lost time.
aHRMs spend nearly 20% of their workweeks managing HR-related tasks — that's time that could be spent growing your business or focusing on core responsibilities. Learn how to break free.
ADP
®

outsourced HR solutions.
HR for a new day.

Our outsourced HR solutions can help you:
Minimize aHRM risk
Save time
Gain expertise
Attract and retain the right talent
Achieve compliance
And meet your unique needs with a dedicated team that knows your business personally and has proven processes and technology in place. So you have more time to focus on growing your business and doing what you do best.
Ready to learn more? Our team of experts would love to connect with you.
Let's talk