In 2015, the millennial generation (those 18–34 years old, sometimes called Gen Y) overtook baby boomers as the largest generation of employees in the workplace, making millennials the future of your business. The good news: they're enthusiastic and ready to make their mark. The bad news: they're often living paycheck to paycheck and it's leading to significant stress that's affecting their productivity on the job. Employers offering the support millennials need will be able to capitalize on the energy and talent of this powerful generation.
Millennials' money woes
Despite their reputation for instant gratification, millennials are looking toward their financial futures. While their financial wellness lenses may not be focused as far off as retirement, many in this generation are concerned about their financial security. And for good reason:
Today's unprecedented debt: The shortage of jobs and lower starting salaries that resulted from the Great Recession have delayed the income growth of young workers. Many are saddled with extensive debt. In fact, student loan debt in the U.S. is over $1 trillion, and millennials owe the lion's share of it. Making those payments each month is straining millennials' wallets now.
Tomorrow's overwhelming needs: Millennials are equally troubled by how much to save for retirement. They expect to live longer in retirement than previous generations; a TIAA-CREF retirement survey found that 34% of millennials believe they'll live 25 years or more in retirement. And 80% of millennials believe they won't get any benefit from Social Security, according to the 15th Annual Transamerica Retirement Survey.
So it's not surprising that the MetLife 2014 and 2015 Benefit Trends Study found that millennials are the generation that feels least in control of its financial wellness.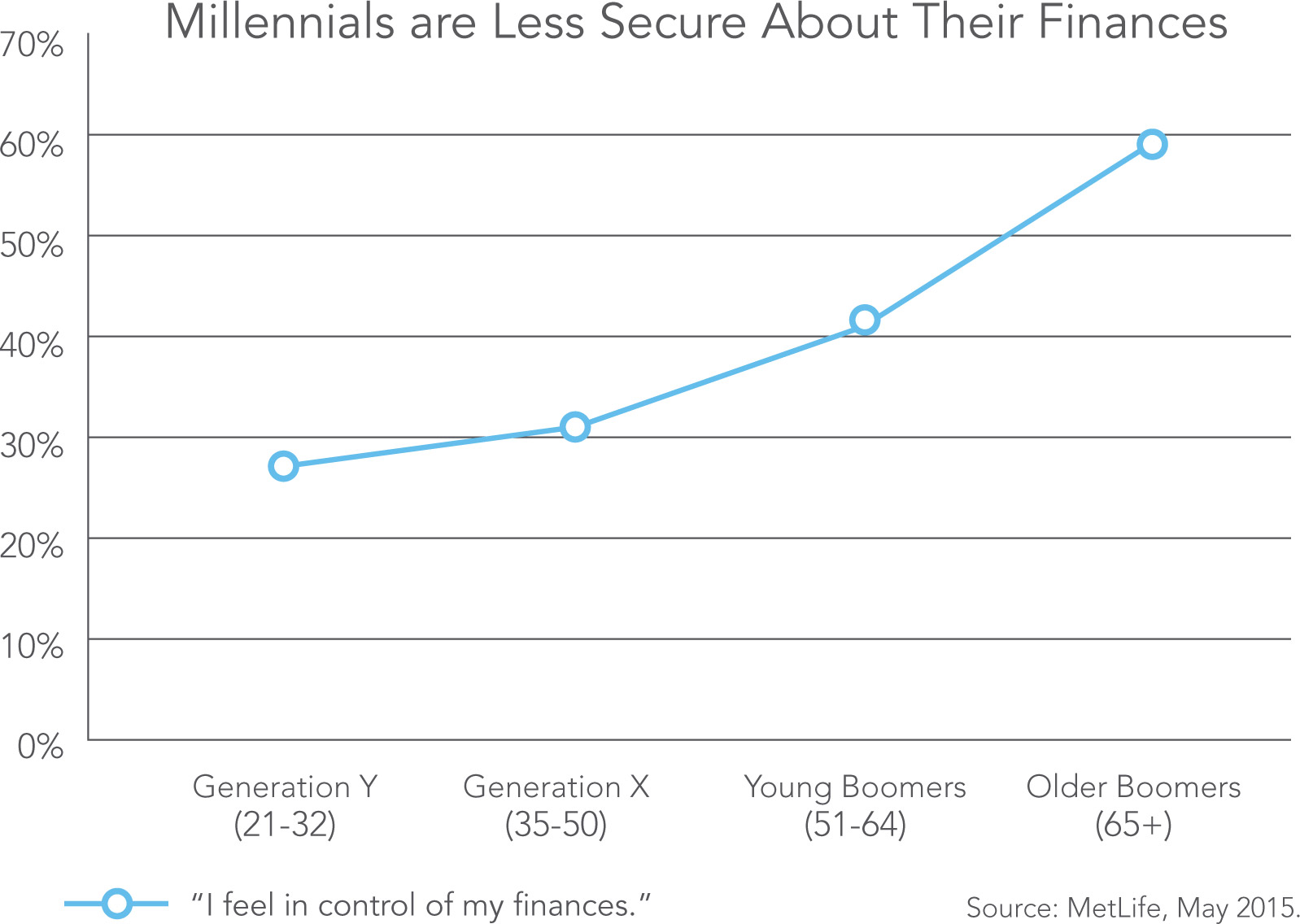 Financial stress is bad for business
Stress can affect not only the millennials you want to hire, but the employees already on your payroll. A 2014 survey of HR professionals by the Society of Human Resource Management (SHRM) found that 41% of HR professionals reported that a lack of monetary funds to cover personal expenses affected employees at their organizations. The same SHRM survey found that personal financial challenges affect employee performance. Half of respondents said that financial concerns resulted in employee stress, and nearly as many (47%) said there was a corresponding inability to focus on work.
Improving employees' financial wellness and education benefits may help you bring in new talent and improve productivity among the talent you already have.